The 2021 United Nations Climate Change Conference, COP26, is a vitally important moment. The world needs to get together to recognise the climate emergency situation that we are in, and commit to making the changes that we need in order to have a planet that is fit for our children and grandchildren to live in.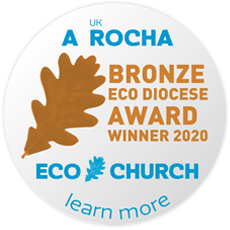 The Diocese of Manchester is committed to integrating care for the environment into its strategy, training, investments and communications. We received an Eco Diocese Bronze award in December 2020 from the national environmental charity A Rocha in recognition of our work to embed environmental issues into the life of the diocese. Many churches are working hard to make their buildings and worship greener, and there is still much more to do as we work towards achieving Silver and Gold awards.
Our senior clergy, together with other faith leaders in Greater Manchester, have endorsed the statement made by 40 world faith leaders and scientists at the Vatican and pledged their prayers for the success of COP26. We join with them in appealing to the 200 political world leaders, gathering in Glasgow, at COP26, to have the courage and determination to agree urgent and radical policies to repair the damage of climate change and to heal our common home for the well-being of future generations. The decisions made must be realistic and achievable and carried to completion.
Back in September we welcomed the Young Christian Climate Network to our dicoese as they journeyed towards the COP26 conference in Glasgow to deliver their important message about climate justice. Hear from Adam Eveleigh about the demands of the YCCN below.
Churches have also been holding Climate Sunday services in the run-up to COP26 to integrate Creation care into their worship and teaching. The diocesan Climate Sunday service heard directly from people impacted by climate change. You can watch it again below.
On 6 November we supported Doxecology, a night of worship at St Thomas's Church, Salford led by Resound Worship, whose unique album 'Doxecology' focuses on creation, ecology, climate crisis and Christian hope.