We know how important it was for Jesus to take time out from his work and to go away and be with God and to find calm, peace and time just to be. This is sometimes difficult to carve into our diaries, but it is needed even more right now, in this new world that none of us anticipated. Yet, in God's strength, even in these challenging times, we are finding new ways of being church, but we are still aware of feelings of fear, anxiety and stress, as we continue to love and mutually support each other.
In order to do this well, we need to ensure that the matter of well-being is not a peripheral option or just a conversation, but that well-being of the mind, body and spirit stays at the centre of our response, alongside our activity.
This page will give you tips, suggestions and reminders of how to take care of you. Each one of you who are faithfully ministering and serving in our communities. You who continue to pray and lead services in inspiring and creative ways. We pray in the Spirit of Christ that some of what you find here, will serve and support you in this troubled time.
Be still and know that I am God Psalm 46:10
Looking after yourself
We have all reacted in different ways to the events of Coronavirus/COVID-19 as they have unfolded. We are likely to be in for a marathon and not a sprint so it is important that, as far as possible, we acknowledge the thoughts, feelings and emotions that we have—on the whole, they are very natural and normal reactions to unusual and concerning events. Many of us may have experienced some of the signs and symptoms of stress which can have a negative impact on our mental, physical and emotional health.
There are lots of practical things that we can do in order to help with some of the thoughts, feelings and emotions. Some of these techniques will be familiar to us and others may not. Consider trying out some of the actions that have helped other people in difficult situations and see if they work for you. Look at the list of suggestions in the documents at the bottom of this page.

The THRIVE Notes provide six strategies to support you during this pandemic. Right now, our physical, mental spiritual, vocational, relational ad material wellbeing is threatened. Our challenge is to find ways to recreate these elements and adapt to the current circumstances. We hope you will find this resource from the National Church helpful to you now.
Use the Notes (above) alongside the THRIVE questions.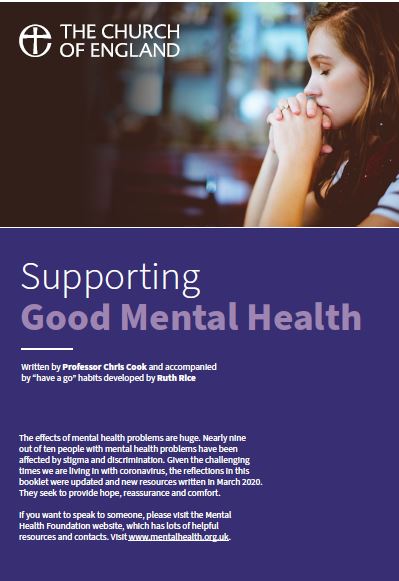 The Supporting Good Mental Health booklet from the Church of England contains two weeks worth of daily reflections updated and new for March 2020 to provide hope, reassurance and comfort.
It includes 'Have a go habits' to help you develop resilience and skills in dealing with isolation, struggles and busyness. It challenges you to be honest with yourself about how you are feeling day by day, and provides scripture and prayers to use in different situations.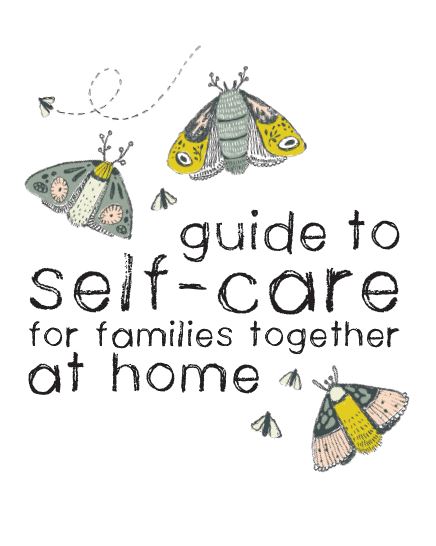 Guide to Self-Care for Families Together at Home. In this time of pandemic and sheltering at home, taking care of ourselves and each other is more important than ever.
This little guide was designed to give you some tools to pick and choose from to foster self-care in your family during this challenging time.
SUPPORT FOR CLERGY
Counselling
The Interdiocesan Counselling Service offers professional counselling to clergy, Licensed Lay ministers,ordinands and their families. For more information on this and how to access the service, please visit: https://interdiocesancounsellingservice.org.uk/
Coaching
We have several coaches who are able to deliver remote coaching sessions for clergy. There is more information on how to access this service in our Coaching Leaflet.
Facebook group for self-isolating clergy
Please join this Diocese of Manchester group for self-isolating and shielded clergy during the Coronavirus crisis and beyond. Clergy who can get out and about and are feeling the pressures of ministry at this time are welcome to use this group to ask for prayer and moral support.
Please consider this group a safe space to support one another, share your personal experiences of lockdown and accepting the feeling of desire to work alongside others, whilst not being able to do so.
Further Support
If you are feeling overwhelmed or struggling with anxiety and you would like further support than is available on this webpage, please get in touch with Diane Collins, Human Resources Manager by email.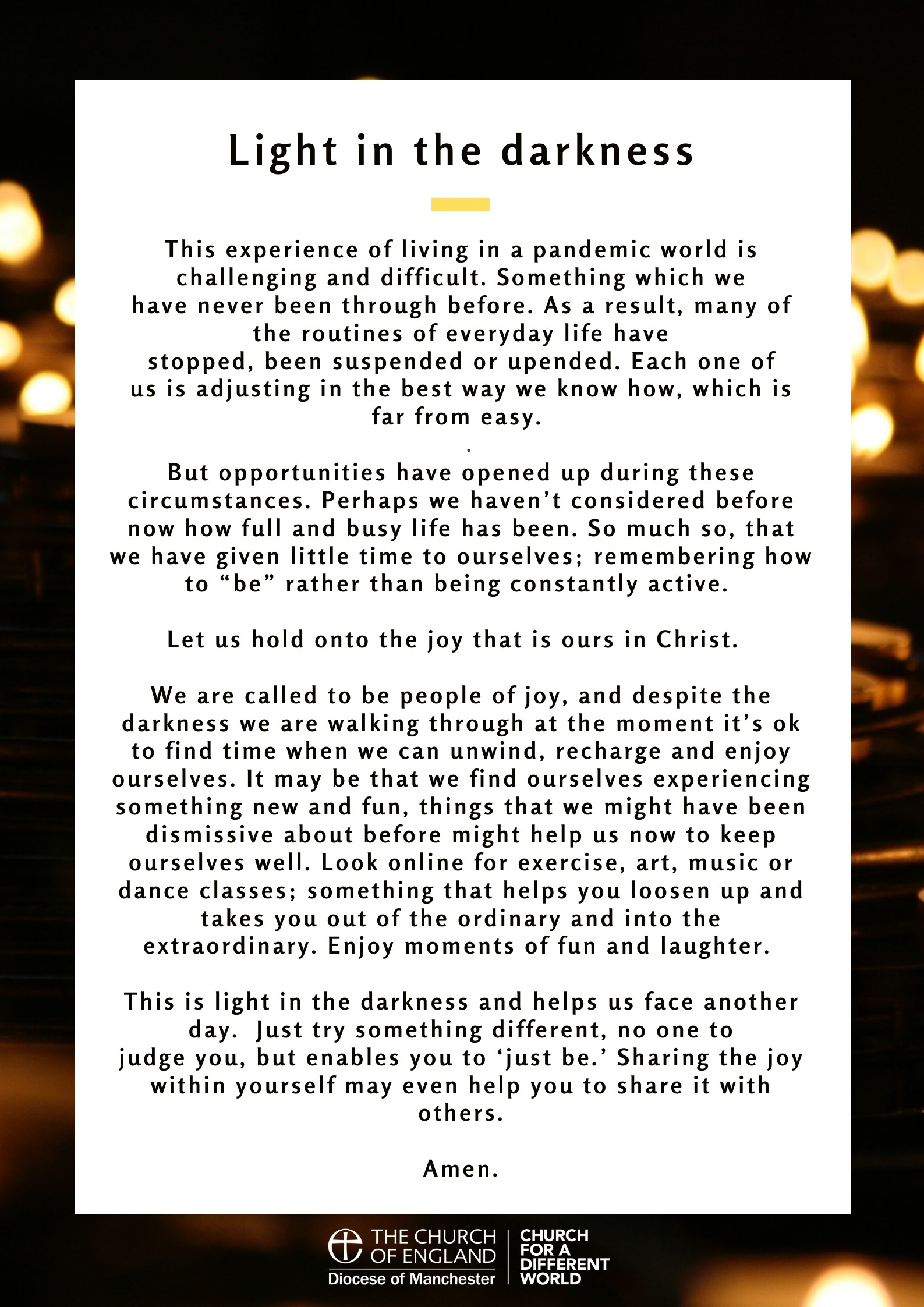 Maybe you could use time at home to take part in activities you would not normally have time for:
Playing Board games
Poetry - learn to write poetry or use it to record things that you are missing. This will be a reminder to reflect on the things you are grateful for
Take photographs of things that are extraordinary which will be a reminder of our times
Corona Diary - make this a project in any format such as drawings, paintings or writing.
If you have suggestions for additions to this page, or have any unanswered questions or support needs, please contact Archdeacon Karen Lund.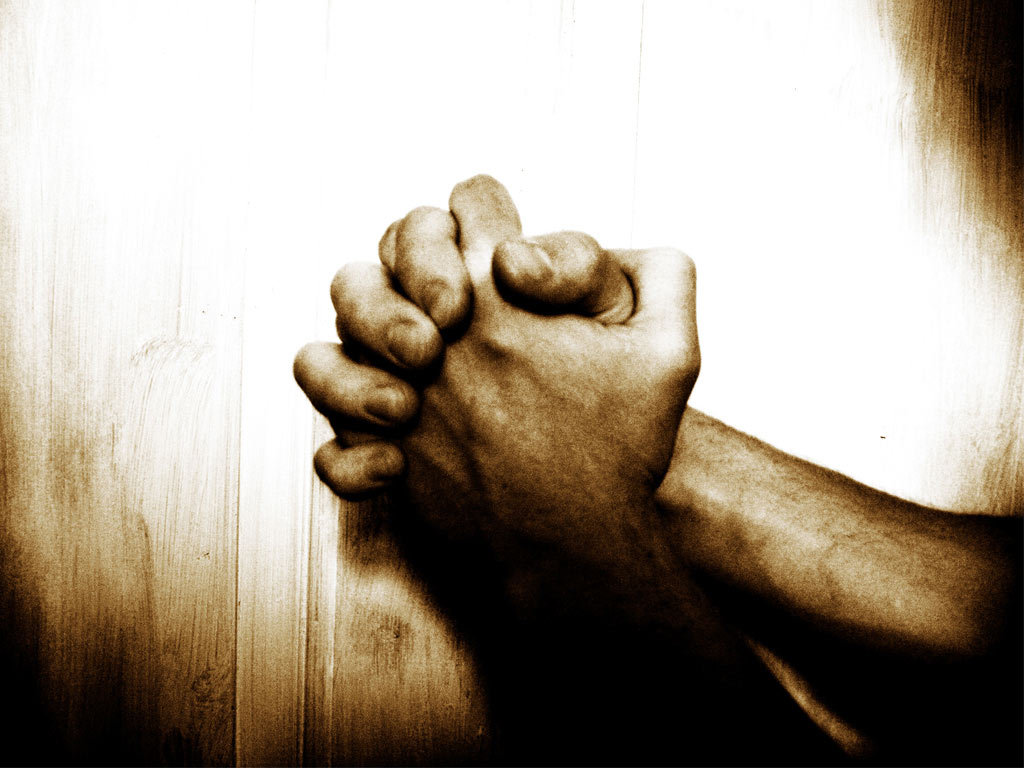 ---
A PRAYER FOR THOSE WORKING FROM HOME
Father of creation, the structure and the shape of our days are so different.
There are so many distractions at home and there is a huge temptation to spend more time working than we did before lockdown.
Help us to use our time wisely, to invest in the relationships most important to us and to take proper breaks.
May we rediscover a new shape to our days that is centred and guided by your Spirit.
In Jesus' name. Amen.
A number of prayer resources are available at www.ChurchofEngland.org/PrayerForTheNation.
---
USEFUL DOCUMENTS
---