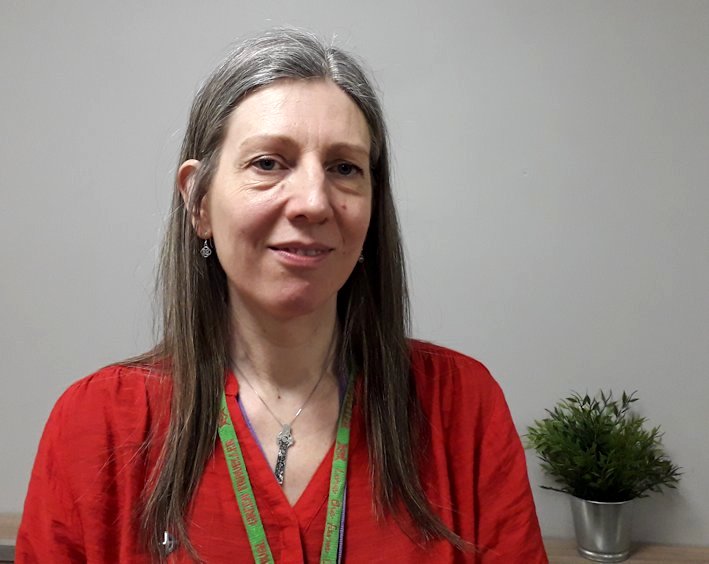 Were all a bit broken, but God loves us and gives us a third and fourth chance.
Although Abby Ogier has been a church member all her life, she admits her faith has been through ups and downs and is shaped by some difficult experiences. She now combines ministry as a Reader in the Wythenshawe Team with employment as a part-time chaplain at Greater Manchester Community Chaplaincy.
With two failed marriages behind her and bringing up two children as a single parent, Abby experienced a crisis of faith. She stopped going to church, where she had been involved in running toddler groups, and her concern and care for children led her to work for the charity, Barnardos. There she progressed to manage their Domestic Abuse Services across the North West of England.
Despite not attending church, Abby had not stopped praying to God, and preparing for her third marriage she decided to make a fresh start at a different church in Didsbury. She soon found herself taking on teaching responsibilities and leading a Lent course.
Abby said, I felt a strong sense of being called away from Barnardos and into ministry in the Church. I explored a call and began training for Reader ministry, which involves preaching and teaching. I was looking for a part time job that would fit in better with ministry, and when the job as a chaplain came up I jumped at the chance! It builds on my work at Barnardos, where I could see the impact on children of returning them to a damaged home.
Abby now works with ex-offenders, who have often had very difficult childhoods themselves. Most of the people I meet in my job are troubled by self-loathing and a lack of self-esteem. These feelings are more powerful than a lack of awareness of what theyve done wrong.
As Christians were called to share Gods love with people, and I think that comes before calling people to repentance. Were all a bit broken, but God loves us and gives us a third and fourth chance.
Abby adds, My work as a chaplain is satisfying and challenging. Its taken me out of cosy life within the deanery and I get to meet colleagues from other walks of life who might have a different interpretation of scripture. Through dialogue were able to understand and appreciate one anothers positions.