Clergy are invited to take part in Group Pastoral Supervision that provides peer-to-peer support
As part of the Diocese of Manchester's commitment to clergy wellbeing, a new programme of Group Pastoral Supervision is being made available. Clergy are invited to sign up for small group sessions led by a trained leader that will provide a confidential space where they can share their day-to-day challenges and experiences amongst a group of supportive peers.
Group Pastoral Supervision enables clergy to reflect on past work experiences in the present for the sake of the future. It has helped individuals to better understand how their own character shapes their ministry, and has led to improved wellbeing and effectiveness.
Manchester Diocese has invested in the development of six of its clergy who have been trained over the past year to enable them to provide pastoral supervision to groups of clergy. We are now inviting clergy to take part in the Group Pastoral Supervision sessions that will be held every 4-6 weeks at venues across the diocese.
You can meet the six clergy who have been trained to lead the group sessions by watching our short video. Each supervisor has also written a short biography that you can access from the table below. You are invited to register for a group by submitting a self-referral form to the supervisor of your choice. The process for taking part in pastoral supervision is outlined in the diagram below.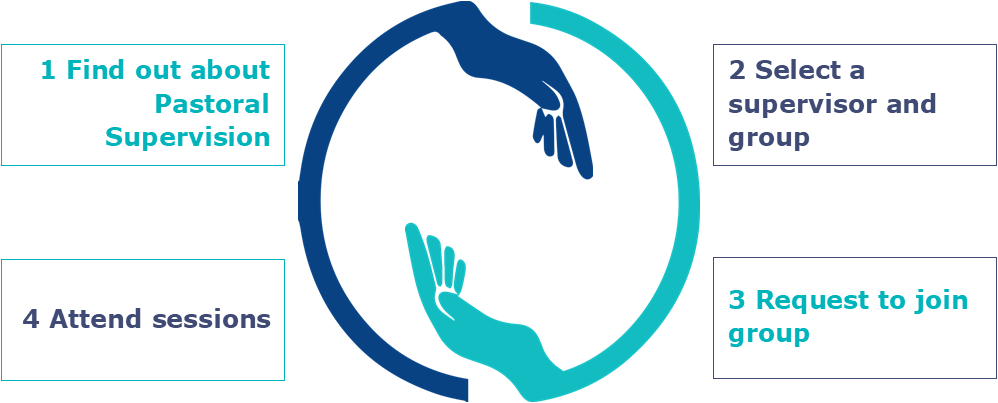 Bishop David hopes that clergy will feel this is something they want to take advantage of. He says: "For me this is a very important part of how we care for the wellbeing of our clergy and is part of our commitment to see that we can flourish and thrive in ministry. It's important that we have places where we can take some of those difficult conversations that we've had and unload, share and gain from the wisdom of each other. I really do believe in peer-to-peer learning and peer-to-peer support. It's a great way, not only to help each other, but also to develop and hone our own skills as well."
Liz Crumlish, Associate of the Institute of Pastoral Supervision and Reflective Practice (IPSRP), says "Supervision is a facilitated, intentional and sustained conversation between a person's Soul, Role and Context, in which attention is paid to the worker, the work and those impacted by the work."
Read our Pastoral Supervision Policy Here
Pastoral Supervisors and the Group Sessions
Exact dates TBC
Area

Supervisor

Venue

Day and time

Book here

Bolton


Simon Watkinson





Emmanuel Church Centre
Vicarage Street
Bolton-le-Moors
Bolton BL3 5LE


Thursdays at 10:30am

Request to join the group with Simon Watkinson

Bury

Julian
Heaton

Bury Parish Church
Church House
The Wylde
Bury BL9 0LA

Saturdays at 10:00am

Request to join the group with Julian Heaton

Rochdale

Janet
Pitman

Nelson Street Church
Nelson Street
Rochdale OL16 1NL

Mondays at 10.00am

Request to join the group with Janet Pitman

Oldham

Denise
Owen

St Thomas
Glebe Lane, Moorside,
Oldham OL1 4SJ

Tuesdays at 1.30pm


Request to join the group with Denise Owen

Ashton

Hilary
Edgerton

St James
Union Street,
Ashton-under-Lyne
OL6 9NQ

Mondays at 2:15pm

Request to join the group with Hilary Edgerton

Trafford

Shaun
Conlon

Christ Church Hall
Lostock Road
Davyhulme
M41 0TD

Thursdays at 1.30pm


Request to join the group with Shaun Conlon
A note from your Pastoral Supervisors
We meet in a stable group setting of our clergy peers. Some will listen, some will contribute, yet all will help and learn, in a safe and supportive environment of confidentiality. We do this by reflecting on our own personal, sometimes difficult experiences, whilst helping others to do the same, in ways, when alone, we can often fail to find the time in the course of a busy working week.

We use our words and create space to listen, but also perhaps incorporate other creative means to help us all think differently.
We, the Supervisors are all fellow clergy from here in Manchester, who have been trained in this form of supervision over the last year and still engage with our own supervision on a group and 1:1 basis. We are not here to act as experts with answers, but as facilitators of the group who can help guide you to determine those next steps, when the way ahead seems uncertain.
Manchester Diocese is taking steps to establish a culture where a pattern of pastoral supervision becomes accepted practice for our clergy. The programme of work has been developed in line with the Covenant for Clergy Care and Wellbeing which was agreed by General Synod in 2019 and follows a debate at Diocesan Synod in June 2021.